Example review questions
These pie charts show the results of a school's netball and football matches. The netball team played 30 games. The football team played 24 games.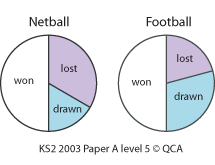 David says: 'The two teams won the same number of games.' Is he correct? Explain how you know.
What other conclusions can be drawn from the pie charts?